Climbing on the mountain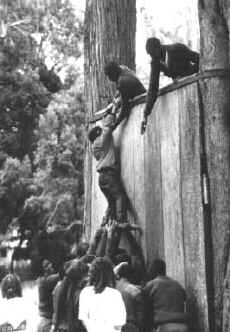 Kenyan and American youth work together to get over the wall
| | |
| --- | --- |
| | I was scared until a hand grasp mine, and then I was swept upward. |

Bounding toward Kilimanjaro
Jonathan Tourzan
The next day we set off for the Outward Bound Mountain School at Loitokitok, a small village at the base of Mount Kilimanjaro. Three vans met us at the YMCA to take us on our excursion.
On our way, we drove through Amboseli Game Park, one of Kenya's richest refuges for wildlife and one of the best elephant habitats in Kenya. There we saw a variety of animals including giraffes, elephants, zebras, and wildebeests. We stopped for lunch at a safari (journey) lodge where we came to the shocking realization that most tourists in Kenya stay at lodges and have little or no interaction with the native people. We felt out of place in this luxurious setting.
On the way to Loitokitok, a small storm broke out and turned the narrow, dirt road on which we were driving into a river of mud. Before we could reach the Outward Bound School, two vans got stuck on the road. Fortunately, Steven McCormick, the only American working with the Outward Bound School, came to our aid. Steven pulled the van out of the mud with his Land-Rover, and, soon after, we arrived safely at School.
Our group was going to join a group of Kenyans who were enlisted in the National Youth Service (NYS). We would join them for three days of rugged outdoor activities at the six-thousand foot level of Mt. Kilimanjaro. NYS conscripts young men and women, ages sixteen to twenty-nine, into a training program similar to the Civilian Conservation Corps, which existed in the U.S. in the 1930's. The Kenyans receive paramilitary and civil-construction training before performing essential jobs in the development of their country. At the end of a two year tour of duty, they are placed in government or civilian jobs. The NYS Kenyans are patriotic, disciplined, intelligent, and hard working.
We moved into a cabin with eleven bunk beds in rows with shelves for our packs. Each student took a bed and unloaded his/her pack before going to the mess hall.
Steven warned us about the school. He told us that the days would be very strenuous, and some activities, such as the difficult parts of the ropes course, would be beyond our capacity. Steven stressed that we were not compelled to participate in any activity that we thought was beyond our means, but he encouraged us to test ourselves and to discover our capabilities. Before we went to bed, we were assigned to patrols consisting of Kenyans and Americans. In the morning, we would be participating in our activities with these small groups.
After the meeting, Steven walked down to our cabins and told us to get a good night's sleep. He told us that we would be getting up at 5:55 A.M.; then he left. He had no way of knowing that we were going to be awakened much sooner. The recent rains had caused Siafu (biting ants), or Safari Ants, to uproot and seek higher ground. Our dry cabin was exactly what they were looking for. Unbeknownst to us, thousands of these large ants began to head for our cabin.
Invading Safari Ants
Rebecca Sugg
We have had a long day. Seven hours of pushing matatus through the mud is
not my idea of easy traveling. We have just arrived at the Outward Bound school on Mt. Kilimanjaro, and I am thinking to myself how great a full stomach and a soft bed are going to feel. I wearily walk into our cabin, choosing what I think will be the best bed in the house, knowing little about the uninvited guests who would soon claim it. When my head hit the pillow, I was fast asleep.
At four in the morning, I was rudely awakened by a sting on the side of my neck. Then another sting . . . and more, on my eyelid, in my ear; there were ants crawling in my hair. "Ouch, slap, ouch, slap, slap, slap, what the . . .?" I was trying to protect myself, and I wondered if I was the only one getting bitten.
My struggle and the army of ants began to get some attention. Jon Rinard, who was sleeping diagonal from me, whispered loudly, "Hey, Rebecca, what the hell are these things anyway?" Then people all around me started slapping and yelling and shuffling. The noise woke up the rest of the group, but, unfortunately, they were not very understanding.
"Shut up!" someone yelled from the other side of the room.
"Be quiet! It's no big deal; go back to sleep," pleaded another classmate from a lower bunk.
"You guys are exaggerating," was the muffled response from inside a nearby sleeping bag.
"Yeah, right!" I thought. Here we are getting devoured by these things, and all that people can think about is sleeping. Finally, we decided to find out for ourselves what was attacking us. Jon turned on his flashlight; now everyone started screaming, yelling, and running to the other side of the room. The huge streams of Safari Ants had made themselves at home, covering half the room; they had attached themselves to everything in their sight! Some had even gotten into our sleeping bags. Nobody got much sleep after that on our first night at Outward Bound.
Teaching the Kenyans to swim
Dana Jensen
The next morning after our ordeal with the ants, we had to get up at 5:55 A.M. for the run-and-dip ritual. I crawled out of bed to find my classmates doing warm-up exercises with the NYS. It was so dark outside that I could hardly see the OBS instructor leading the exercises, so I watched the people around me and tried to follow. One instructor with a strong tribal accent yelled: "Squat, face your partner, and jump! One! Two! Three!" I reluctantly started jumping. After the warm-ups, we ran half a mile up and down a bumpy dirt road. I was on the verge of collapse, hoping to be unnoticed, when I felt someone pushing on my back. It was a Kenyan, encouraging me to keep up with him.
I followed him to the swimming pool. It was light now, and I could see that my patrol was already there. The morning activity seemed to put everyone in a good mood. I smiled at the irony of hitting cold water at 6:20 A.M. with nothing familiar around me but my clothing and my classmates. The supervisors, standing on the opposite side of the pool; told us to stand on the deep end and to help the Kenyans get across the pool, some of them did not know how to swim. The tough Kenyans, who were good runners and disciplined, seemed so vulnerable as we got ready to jump.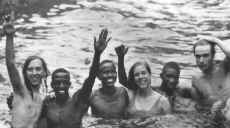 "Step up! And jump!" yelled the supervisor. All but four people jumped into the pool. Then I noticed my classmate, Fiona, pushing a big Kenyan to the side of the pool; I realized that she needed help. He was thrashing in panic. I suddenly felt a rush of energy; I took a deep breath and went underwater. I swam beneath him and pushed him to the side of the pool. His head was hanging down, and his dark colored muscles flexed to cling to the side of the pool. When he had caught his breath, he looked up at me with wide eyes. I smiled at him and watched his expression turn into a huge grin.