Teaming up with our Kenyan brothers and sisters
Running the course
Jonathan Tourzan
The next day started out in similar fashion with the run-and-dip, breakfast, and morning meeting. After this, all the Americans went with two of the four Kenyan patrols to the high wall. Here, Steven and the other instructors taught us some basic rock climbing techniques. The big wall was made of two thirty foot platforms with one placed on top of the other. The platforms were almost perpendicular to the ground. Between the two platforms was a ledge parallel to the ground. Each platform had blocks which one could use for pulling oneself up or as footholds for support. The climber was belayed with a rope held by two people on the ground, usually one of our students and a NYS person. We each scaled the front of the wall and rappelled down the back.
Afterward, we met with Steven and went over what the next few days would be like. He told us that we were going to hike about fifteen kilometers to a nearby Maasai village where we would visit a primary school and meet with the villagers. He warned us that if it rained the hike would become difficult, as we would be walking knee-deep in mud.




Learning from Steven
Laura Zarcone
The first evening at Outward Bound when Steven McCormick gave us his gung-ho speech about "breaking an ankle," I kept a skeptical watch on him. The olive drab uniforms of the NYS people and the boot camp atmosphere of the Mountain School increased my skepticism.
"Great!" I thought; "I'm part of a fascist plot to teach unity and cooperation through physical cruelty. It is going to be administered by the Kenyan staff, and our National Youth Service counterparts will humiliate us in every event." That night nestled in my cot, I wondered who had planned our little excursion to Outward Bound. "It was Jonathan; that figures," I thought as I shook my head.
I became even more wary after we were awakened in the middle of the night to the sound of screaming and cries for help. "What is going on now?" I wondered. That was when I found that the Safari Ants were invading our cabin and falling off the ceiling into our students' sleeping bags, biting hapless members of our group.
Later that morning when Steven responded nonchalantly to our ant problem, my fear that it would take a major disaster to prompt his concern was reinforced. He was a cross between Indiana Jones and Faulkner. I had a cautious admiration for his lifestyle, yet I found myself thinking: "How can anyone enjoy watching people suffer through so many physical hardships?"
After participating in a full day of mountaineering activities, my perspective changed dramatically. I saw my peers overcome resistance, conquer fear, and work together. I realized that all the exercises were designed to bring out leadership qualities and teach cooperation. We were becoming stronger.
As we neared the end of our Outward Bound experience, I again appraised Steven, only this time I thought, "What a fortunate man. It must be rewarding to watch people push their limits and break through and achieve a sense of high self-esteem, self-respect, and group unity." I will never forget Steven; he had a special quality that most people in authority lack. He had gained my personal respect.
Working with the Kibos
Jonathan Tourzan
Our students had been put into four patrols with the NYS the first night. We were given the names of four famous peaks in Kenya—Elgon, Nelian, Kenya, and Kibo. I was placed in the Kibo Patrol. Kibo was the highest peak in Kenya, so, as a member of Kibo Patrol, we had to strive to be the best. We were proud to be Kibos.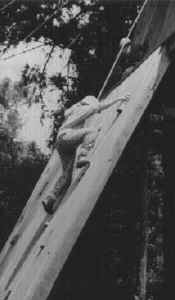 The Americans and Kenyans in our patrol quickly bonded during the activities. We always pushed each other to new limits. I specifically remember the ropes course as an example of this. I had come far but approached what seemed like an insurmountable obstacle. There was a shaky rope about ten feet long over a small pond. It connected to two ropes on the other side on which one could support oneself. With these two ropes, one could climb up to a ladder.
Twice I tried to make it across but fell in the water. Each time the members of my patrol cheered me on. They told me to try a third time. I quickly lost my balance crossing the rope, but, this time, I gathered up the strength to jump. I fell forward and grabbed on to the two ropes with both hands. Everyone cheered. I felt so good, as if I could do anything. The Kenyans told me that I was a soldier.
On the second evening Mwambui, a Kenyan Kibo, called me over and told me to come with him. It had been a hard day, and I thought we were going to go somewhere quiet to relax and talk. To my surprise, Mwambui took me behind the mess hall where there was a big truck piled high with wood. I went into the truck with Maurice, another Kibo, and two boys from other patrols whom I did not know. We passed out logs to other boys outside the truck who were making a big pile of wood behind the mess hall. We did this strenuous work for about half an hour. When I felt like stopping, they would encourage to continue. "You are a soldier," they would say, and this reaffirmation gave me the strength to push on when my fatigue made me feel like stopping.
After unloading the wood, I went to the bathroom to wash some clothes. One Kibo, Jeremiah, gave me some pointers on how to wash clothes properly. I explained that in America we had washing machines and did not wash by hand. He was amazed.
Suddenly, the dinner bell rang. We had to run to make it on time; this time we arrived with smiles on our faces. That evening we sat around and talked. I told my new friends about education in America. They were fascinated. They told me about their tribes and homes. We got very close to one another. When it was time to go to bed, I said good-bye to my fellow Kibos. I went back to my cabin with a greater understanding of these young Kenyans, their values, and their ways. We had many differences, but we carried within a common spark of humanity that bonded us.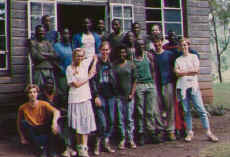 The Kibo Patrol
| | |
| --- | --- |
| | Kibo is the highest peak in Kenya, so we had to do our best. |

Bidding farewell again
Jonathan Tourzan
Although the Outward Bound instructors did not require it, our group chose to start our final day with the traditional run-and-dip. This was an activity that most of our group had resisted vigorously on our first day. Now that our group had reconnected we wanted to push through all remaining resistance.
We ate breakfast for the last time with our friends from NYS. Then we attended the morning meeting and said farewell to our Kenyan friends from the NYS and OBS. Many students exchanged addresses with their new Kenyan friends. The moment was mixed with sadness and joyful anticipation as we went back to our cabins and packed our provisions for the trip into Maasailand.