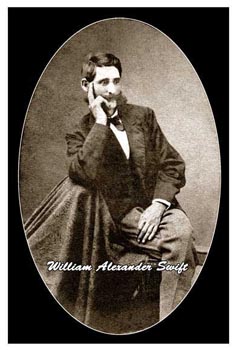 Will, a Civil War Veteran
William Alexander Swift was born in Morgan County, Illinois in 1836. As an adult, he moved to Colorado. His loyalty to his country and his profound respect for Abraham Lincoln motivated him to volunteer to fight for the Union Army in the Civil War. He served with the 1st Colorado Cavalry until the end of the war.
After the war, William was accepted for membership in the Grand Army of the Republic, an organization for veterans of the Civil War. For most formal photos, William wore his GAR metal. It is absent in this picture, taken for his Wedding.
After his discharge from service, he, like many veterans, was drawn to California to seek land and opportunity. He worked the land in the Sacramento Valley and dedicated his life to raising his family.