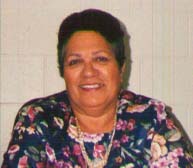 Interview with Gladys Pualoa Ahuna
March 5, 1997 in Laie, Hawaii
Conducted by Jaime Pavsek, Kahuku High Senior


Q: How old were you when Pearl Harbor was bombed and where did you live then?
A: I was twelve years old and living in Laie on the Northshore of Oahu, Hawaii.

Q: How did you hear about the bombing?
A: My father was a telephone district supervisor. He became the main source of information for the windward side of the island. We heard the news about 7:00 AM in the morning on December 7th and my father proceeded to go to the military outposts to tell them what had happened.

Q: How did the war affect your family and your living conditions?
A: My brother was still in high school and he was going to Kamehameha where he was a senior there. He was in the ROTC and so after the bombing, he was drafted. My mother didn't know where he was for three months. Finally we found him and he was stationed in Waialua. It was because of the war that he never graduated from high school. I lived in the center of a telephone exchange. The house was fenced off with an 8 foot fence with barbed wire on top. The 19th infantry moved into my yard because we had a very large yard and they made it the command post. There were two gates to my yard, one for cars to go through and one for people to enter through. There were guards at the gate. The guard would ask me where my dog tag was. I would tell him that my face is my dog tag, I live here! So he would have to get the main operator who knew me to walk out and identify me.
The war also affected our Christmas. We couldn't go out and get a Christmas tree, so my father and my mother drove up to Waiahole Valley to cut down a tree. He was unsuccessful because he got lost in the valley. Back then our head lights on the car were painted black with only a small hole that wasn't painted for the light to shine through. My mother was sitting in the car and she kept tooting the horn so my father could hear it and know where to go to get back to the car. That was also the year the song "White Christmas" came out and it was hard for the military boys to be away from their homes especially not knowing what was going to happen.

Q: Did the war affect your schooling?
A: Before we went back to school we had to file for an ID card. I still remember my number, 36-36. Then after a couple of months, the officials let us go back to school. Every week there would be a gas drill. We had to wear gas masks around our shoulders. We would have to get the our gas mask out, clip it over our face and whoever was there to test it would come and cover the bottom and if you could still breath, it wasn't tight enough so they would make it tighter. Then they built trenches and they'd run air raid drills and when that sounded off, we all had to run to the trenches and jump in. Kahuku School at that time did not allow girls to wear pants. We had to wear dresses. The boys would take off into the trenches to jump in before the girls came. We were so upset that we went to the principal to demand that we be allowed to wear slacks in school. We made our point and for the first time we could wear slacks in school.

Q: What would be your advice to people who are dealing with what you dealt with during the war?
A: Just to learn to accept the situation you are in and make the best of it.

Q: Did anything good happen because of the war?
A: I have made a lot of friends due to the war and I met my husband during the war.