"Brothers To The Rescue"

In the most famous incident involving Cuban expatriates, two small planes operated by a Cuban-American anti-Castro group, "Brothers To The Rescue", were shot down by Cuban fighters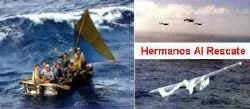 in waters north of Havana. The planes had been running routine missions, dropping anti-Castro propaganda on the island after taking off from their Miami base. Four people on board were initially reported missing, and President Clinton immediately condemned Cuba's actions. Congress, strongly pressured by the US expatriate population, considered bombing Cuba in retaliation. The resulting anti-Castro sentiment allowed for the adaptation of the Helms-Burton Act with president Clinton's support, strengthening the economic embargo at a critically bad time in Cuba's economic crisis. Helms-Burton allowed domestic companies which had lost land in the '59 revolution to sue foreign enterprises which did business in Cuba. The expatriate population in Florida celebrated Helms-Burton as a strong step in a foreign policy designed to eliminate the Castro government.