An experience of a lifetime
Meeting Father Grol
Jonathan Tourzan
That evening we were ready to visit the Undugu (Brotherhood) Society. This organization was founded by a Catholic priest, Father Grol, who had been a missionary in Kenya for over thirty years. In his younger days, Father Grol traveled from village to village, either on foot or by donkey, to serve the people.
When he tired of traveling, he chose to spread the Christian gospel of love by starting an organization to provide education and job training to street children. The organization became the Undugu Society. It offered housing to any boy who would promise to stay off drugs. Father Grol hoped that the opportunities provided by his society would give homeless children a chance to become productive citizens.
A large bus picked us up at two hours in the evening (8:00 P.M.) to take us to the home of the Undugu Boys. It took us through downtown Nairobi into the Mathare Valley, the poorest section of Nairobi. Here we traveled on rough roads, passing shanties and roadside vendors. We were on our way to Father Grol's Undugu Boys' Home.
We arrived at a small compound where about 35 young boys greeted our group. They were shy at first and said very little to us. The tall, older white man among them, Father Grol, welcomed us and took us into a small colorful room with mural lined walls.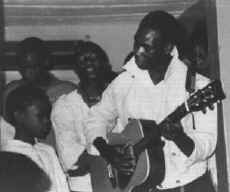 Being the World
Kelly McJunkin
The rooms were too small to accommodate everyone, so the Undugu Boys and our students stood in separate rooms and could see each other through an open doorway. The light was dim, and it was hard to see everyone's faces. Three boys with smiles that lighted up the room stepped up and began to sing a welcome song. We couldn't help but join in when we knew the words.
Samuel, who had the brightest smile of all, began strumming the chords to We Are the World on his guitar; he asked us if we knew the words. The excitement and laughter spread as we began to sing the words together.
"We are the world,
We are the children,
We are the ones
who make a brighter day,
So let's start giving."
As we sang, I cried inner tears of joy; I felt united with these people who live on the other side of my world. The truth rang out in the song that we are the children, and our generation can change the future of the world. The connection that we felt in that small room made it seem as if the whole world was sharing our joy. Putting our cultural differences aside, we danced
and laughed and smiled. It was a great way to start our trek through Kenya.



We spent our second evening in Kenya with the Undugu Boys
| | |
| --- | --- |
| | They fed us Ugali (corn mush); then we sang and danced together. |

Singing for peace
Joyce Zarcone
We continued to sing for and with each other. The Kenyans sang songs in Kiswahili— Malaika and Jambo—and in English—Leaving on a Jet Plane, The Boxer, and Kingston Town. The communication grew between the two groups as we all sang Malaika (My Angel), a Kenyan song that we had learned back home. That evening, a picture of hope for one world brought tears to my eyes and a lump to my throat.
Then our students gave a special presentation. We had brought two soccer balls, thirty pair of soccer shoes, two pair of boxing gloves, and clothing from America to give to the Undugu Boys. Each of us had carried a new pair of soccer shoes in our packs, which made this exchange feel more personal. The Undugu Boys' eyes lighted up when they saw the gifts. Afterwards, we posed for a group picture and danced together. The world seemed like a very small place that evening with its people having so much in common.
Eating and dancing
Fiona Hollins
The Undugu boys brought out a generous feast of chapati (fried bread), beans, cabbage, and meat stew. "We made the dinner ourselves," they told me proudly and brought us water to wash our hands before eating. Fortunately, Father Grol started by scooping up a chapati full of food so that we would know how to eat the meal without plates or silverware.
This was our first real Kenyan meal. Here we were in the middle of the poorest part of Nairobi, eating with street kids, and feeling perfectly comfortable. This became our baptism to Kenyan food; almost all eating was easy after this experience.
After dinner, two Undugu boys played reggae songs on their guitars while the others sang along and danced. I joined a few brave members of our group in the dance. As everyone became less self-conscious, more of our group started dancing together in the dark crowded room. I felt accepted by the Kenyan boys; I knew that we were all the same inside.
When it was time to say good-bye, the boys taught us their special handshake. We slapped hands and touched thumbs. As we joined hands, the idea of a united world seemed entirely possible.